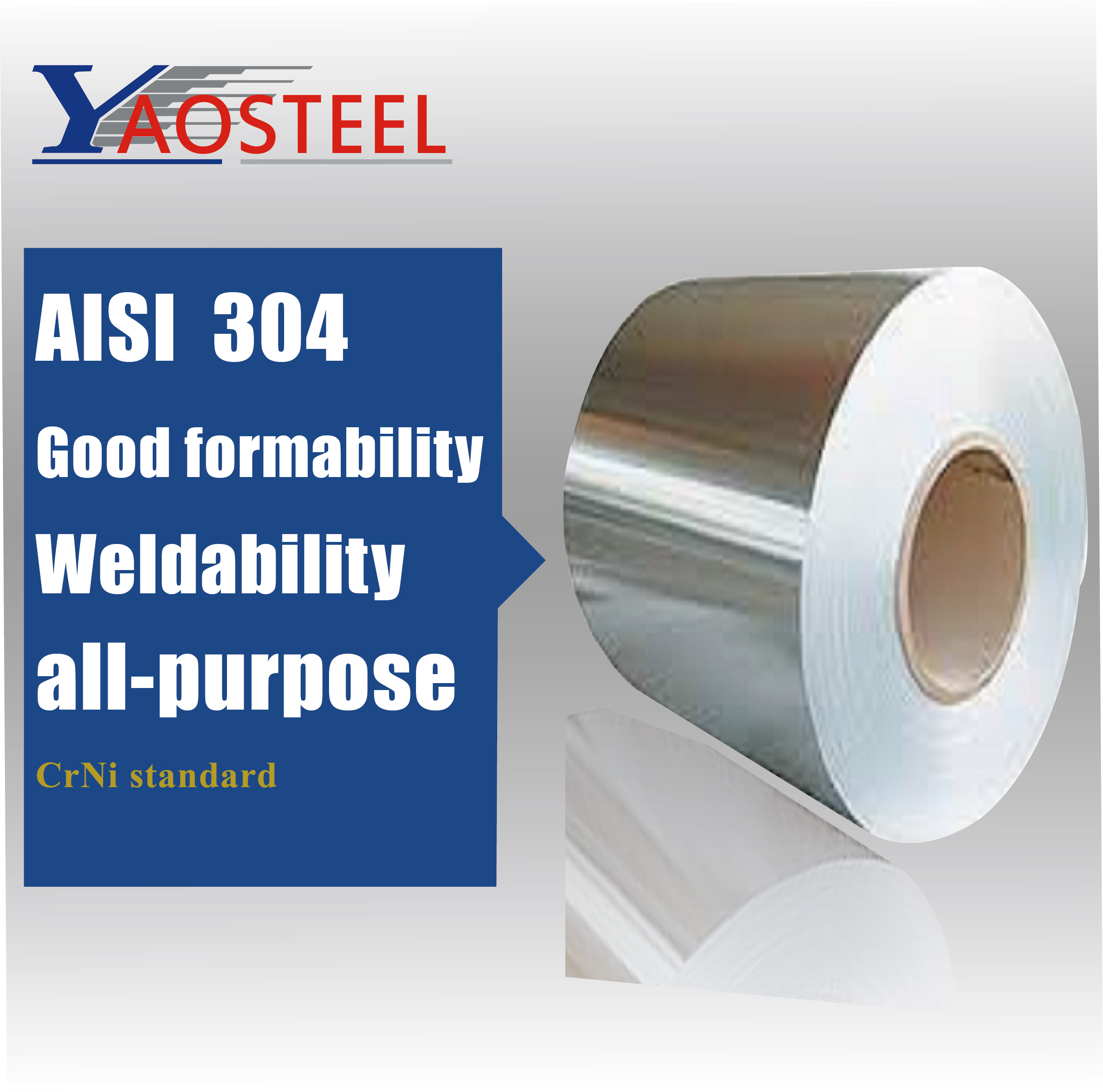 304 stainless steel coil
304 is used for a wide variety of home and commercial applications, which has a minimum of 18% chromium and 8% nickel.

Features:

1.Resistance to moderately aggressive organic acids.
2.Resistance to corrosion in oxidizing environments.
3.Good oxidation resistance in intermittent service to 1600°F and in continuous service to 1690°F Good oxidation resistance in intermittent service to
1600°F and in continuous service to 1690°F.
Applications:
1.Kitchen benches, sinks, troughs, equipment, and appliances.
2.Chemical containers, including for transport.
3.Food processing equipment, particularly in beer brewing, milk processing, and wine making.
4.Heat exchangers.
5.Architectural trim and molding.
6.Woven or welded screens for mining, quarrying & water filtration.


1. material:201,202,301, 304,304L,316,316L,430,430L etc.
2. surface finish: 2B,BA,8K,NO.4,HL,
3. width:50-2000mm
4. thickness;0.3-100mm
5. application: architectural decoration, luxury doors, elevators decorating, metal tank shell, ship building, decorated inside the train, as well as outdoor works, advertising nameplate, the ceiling and cabinets, aisle panels, screen, the tunnel project, hotels, guest houses, entertainment place,kitchen equipment,light industrial and others.
6. other machinable surface: drawing, etching, 8k(mirror) Matte, punch boards, embossing plate.
7. advantages: showing the splendor of your quality, wear-resistant as well , strong corrosion resistance and decorative effect, durable and beartiful in good taste.
8. payment: TT OR LC
9. delivery time: according to your quantity.
10. package: export standare or as your request.
| | |
| --- | --- |
| | Characteristics and application |
| 2B | The surface brightness and flatness of 2B is better than 2D. Then through a special surface treatment to improve its mechanical properties, 2B could nearly satisfy comprehensive uses. |
| NO.3 | Polished with abrasive belt of git#100#200, have better brightness with discontinuous coarse stria, used as inner and extemal omaments for building, electrical appliances and kitchen utensils etc. |
| NO.4 | Plished with abrasive belt of grint#150#180, have better brightness with discontinuous coarse stria, but thinner than NO.3, are used as bathtub buildings inner and external omaments electrical appliances kitchen utensils and food processing equipment etc. |
| HL | Polished with abrasive belt of grit#150#320 on the NO.4 finish and has continuous streaks, mainly used as building omaments elevators, door of building, frontal plate etc. |
| BA | Cold rolled, bright annealed and skin-passed,the product have excellent brightness and good reflexivity like mirror, kitchen apparatus, omament etc. |
| 8K | The procuct have excellent brightness and prefer reflexivity can be the nirror |